Next Events
Guide to Virtual Meetings using Zoom
Unfortunately the YMCA Hawker Centre meeting venue is closed; all future activities have been postponed or will be cancelled until further notice.

13 January 36 members 'attended' the very interesting virtual presentation by David Hassard using Zoom talking about the 1919 Great Trans-Atlantic Air Race won by Alcock and Brown in a Vickers Vimy.
26 November Our first Virtual talk using Zoom titled "Fall of Icarus: RAF policy and fighter design 1945-1949" by Michael Pryce was very successful and interesting. 39 members joined the meeting.
19 November is the 60th anniversary of the first untethered hover of XP831 the first P.1127. Mike Fantham.
09 November Newsletter 58 Winter 2020 PDF is available online.
26 October We are sad to report that Stuart Taylor died peacefully in his sleep on September 26th in a care home in Truro. He joined Hawker Siddeley at Kingston from Blackburn Aircraft in Brough in about 1963, and retired in the 80s. He worked on the Buccaneer, the Harrier (his major professional concern) and the Hawk. In retirement Stuart moved back to Truro, where he'd been brought up, fitted out a Rustler 31 sailing yacht (which is still going strong) and lived a full and adventurous life until a couple of years ago, when age began catching up with him. He lived to within three weeks of his 97th birthday. He has three children, eight grandchildren and two great-grandchildren. Chris Farara.
24 July A link sent to me by Richard Lane; the first US black female tactical aircraft pilot posing in front of the T-45 Goshawk that she qualified. Another 1st for the Hawk.
09 July A short video (4:00) with a history slide show of the Richmond road site from its building in 2017 to its demolition in 1993 followed by a video of some of the demolition is on Youtube.
08 April Off topic but in this time of Covid-19 I found these TED Talks with Bill Gates very interesting; in the first one he was forecasting Covid-19 5 years ago, only 8 minutes.
Bill_Gates_we are_not_ready for next out break
Bill_Gates_how_we_must_respond_to_Covid-19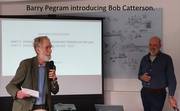 On 12th February Bob Catterson presented "Scenic Highlights From My Travels In The USA" followed by an Aircraft Quiz. Story, Photos
27 January Chris Farara has created Five newsletter content Indexes. The newsletters contain reports and stories on AGMs (PDF), Contributions by members (PDF),News (PDF), Talks (PDF), and Visits (PDF); click one of these links to display an index page in a new window, PDF displays a PDF file (better for printing), some contain links that display a newsletter page for the story in a new window. More complete is a list of events created by Frank Rainsborough; Events 2003-2017 as PDF, no links.
Kingston Aviation Centenary Project (KACP)
The website continues to be updated with very interesting weekly stories of Sopwith 100 years ago, Hawker People stories and photos added to the gallery.
There is a very interesting set of PDF files giving a short history of the Ham factory; best to return to the Menu, from a pdf file display, using the back arrow or backspace key.

The Re-Engineering Brooklands project.
The museum needs volunteers; could you spend a few hours a week helping out. More

Most of the talks given to the Association are videoed by Richard Cannon. If you missed a talk many are available as a video DVD; the List 2003-2009 is a web page with links to the newsletter stories of talks. Also Association Ties are available at a cost of £7.50. Details
Are you a Member ? If you have worked for Hawkers or a successor company you are eligible to join. In addition membership may, at the discretion of the Committee, also be granted to those people who share the interests and aims of the Association. Check the list of qualifying companies. The subscription is only £7. Membership Application form; PDF Document (3kb).
Web site display. The updated dates of pages, the email address in the banner and some other items use scripts; your browser should be set to allow scripts for tiscali.co.uk and hawkerassociation.org.uk for them to display. Generally underlined blue items are links.
If you are having problems printing pages or getting the latest version to display try looking at Tips