Next Event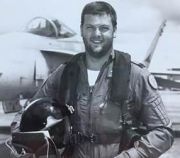 8 November Capt. Nick Anderson - Chasing Bears in a Phantom. Capt. Nick Anderson will talk about his time in the RAF, training to become a fighter pilot and his subsequent life policing NATO airspace around the UK and intercepting Soviet bombers and reconnaissance aircraft that intruded.

14 November Newsletter 67 Winter 2023, PDF is available online,
10 September An extremely successful and enjoyable BBQ at Dunsfold, held adjacent to Hunter for Kingston XL623 being restored by a dedicated team of members; 49 members attended. A story and photos will be available later.
28 June Newsletter 66 Spring 2023, PDF is available online,
08 March Although there wasn't much snow it caused us a lot of problems. Our speaker and a number of the committee didn't want to travel in the conditions. 20 emails later the committee meeting had been cancelled and David Hassard volunteered, at very short notice, to talk on "Thomas Sopwith and his Sopwith Aviation Company" that was new to us. It was very good with an audience of 18 on site and 25 Zoom. Many thanks to David for getting us out of a hole.
05 March The Hawk Trainer, Finland and Russia; story
11 January Chris Roberts gave a very interesting talk on the Hunter for Kingston huge project, volunteers have given 4000 hours working on it.
Kingston Aviation Centenary Project (KACP)
The website continues to be updated with very interesting weekly stories of Sopwith 100 years ago, Hawker People stories and photos added to the gallery.
There is a very interesting set of PDF files giving a short history of the Ham factory; best to return to the Menu, from a pdf file display, using the back arrow or backspace key.

The Re-Engineering Brooklands project.
The museum needs volunteers; could you spend a few hours a week helping out. More.

There are 6 Newsletter Indexes of stories appearing in newsletters. Each index displays a list of stories and a link to display the story in a new window.
From November 2020 we have provided talks to members using Zoom; catalogue of talks recorded and available as unlisted on YouTube by a link.
Most of the talks given to the Association are videoed by Richard Cannon. If you missed a talk many are available as a video DVD; the List 2003-2009 is a web page with links to the newsletter stories of talks.
Are you a Member ? If you have worked for Hawkers or a successor company you are eligible to join. In addition membership may, at the discretion of the Committee, also be granted to those people who share the interests and aims of the Association. Check the list of qualifying companies. The subscription is only £7. Membership Application form; PDF Document (3kb).
Web site display. The updated dates of pages, the email address in the banner and some other items use scripts; your browser should be set to allow scripts for cmlx.co.uk and hawkerassociation.org.uk for them to display. Generally underlined blue items are links.