Next Events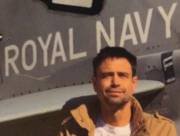 12 May at 14:00 Rowland White, a best-selling author who writes about aviation, will talk about the 1982 air war in the South Atlantic as a Zoom meeting; there will be excerpts from his book that features the third Sea Harrier squadron NAS 809. Chris Farara gave a good review of the book in the Spring 2021 Newsletter Issue 59.
Guide to Virtual Meetings using Zoom
Unfortunately the YMCA Hawker Centre meeting venue is closed; all future activities, except for Zoom virtual meetings, have been postponed or cancelled until further notice.

12 March We are pleased to have provide our talks through the internet using the Zoom platform since late 2020.
Each of the speakers has given permission for their excellent and varied talks to be recorded and made available to the Membership, thereby making the Association accessible to our more distant Members.
The videos are taken directly from Zoom, so may lack a certain 'professionalism' but nevertheless are attracting widespread interest.
The early videos have been migrated from a personal location to a new Hawker Association YouTube channel but are only available to those with the required links, details of which can be provided to Members on request.
Our current 'catalogue' is as follows:
The Fall of Icarus - Mike Pryce
Transatlantic Air Race - David Hassard
Tales of Test Pilots - hosted by Chris Roberts
The Royal Aero Club - Dick Poole
Questions about the YouTube videos may be directed to us through hawkerassociationzoom@gmail.com
23 February Chris Farara has updated Six newsletter content Indexes. The newsletters contain items on AGMs, Book reviews, Contributions by members, News, Talks, and Visits; click one of these links to display an index page with newsletter number links that display a newsletter page for the item if clicked. More complete is a list of events created by Frank Rainsborough from the programmes; Events 2003-2017 as PDF, no links.
18 February Newsletter 59 Spring 2021 PDF is available online.
13 January 36 members 'attended' the very interesting virtual presentation by David Hassard using Zoom talking about the 1919 Great Trans-Atlantic Air Race won by Alcock and Brown in a Vickers Vimy.
26 November Our first Virtual talk using Zoom titled "Fall of Icarus: RAF policy and fighter design 1945-1949" by Michael Pryce was very successful and interesting. 39 members joined the meeting.
Kingston Aviation Centenary Project (KACP)
The website continues to be updated with very interesting weekly stories of Sopwith 100 years ago, Hawker People stories and photos added to the gallery.
There is a very interesting set of PDF files giving a short history of the Ham factory; best to return to the Menu, from a pdf file display, using the back arrow or backspace key.

The Re-Engineering Brooklands project.
The museum needs volunteers; could you spend a few hours a week helping out. More

Most of the talks given to the Association are videoed by Richard Cannon. If you missed a talk many are available as a video DVD; the List 2003-2009 is a web page with links to the newsletter stories of talks. Also Association Ties are available at a cost of £7.50. Details
Are you a Member ? If you have worked for Hawkers or a successor company you are eligible to join. In addition membership may, at the discretion of the Committee, also be granted to those people who share the interests and aims of the Association. Check the list of qualifying companies. The subscription is only £7. Membership Application form; PDF Document (3kb).
Web site display. The updated dates of pages, the email address in the banner and some other items use scripts; your browser should be set to allow scripts for tiscali.co.uk and hawkerassociation.org.uk for them to display. Generally underlined blue items are links.
If you are having problems printing pages or getting the latest version to display try looking at Tips